With Lathem Remote Assist, you allow our support agents to view your software screen live over the internet. It's like having a live support agent on site! We can frequently solve problems much faster and reduce your time on the phone.
Here's how it works:
Step 1: You will download a small application (by clicking below) to your desktop to enable sharing. This application will generate a unique ID and Password that you will share with the support agent.

Step 2. Select Run when prompted by your browser.
Step 3. After the application loads you will see the following screen. You can then provide the support agent with your unique ID and Password.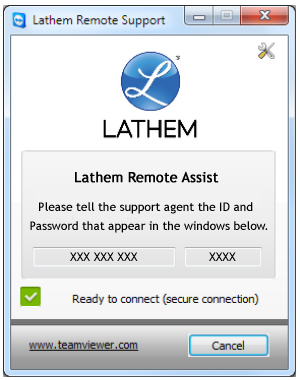 Step 4: Our support representative can immediately diagnose, troubleshoot and resolve the incident using a variety of incident-resolution tools, including:
Remote Diagnostics
Remote Viewing/Control
File Transfer
Reboot/Reconnect
Step 5: At the end of the session, you can immediately provide input on the support experience, enabling us to address session metrics and maintain a high standard of customer satisfaction and loyalty.