Instead of signalling horns and bells, the DWA-S can provide a dry contact closure for hardware connections, such as a paging system or tone generator.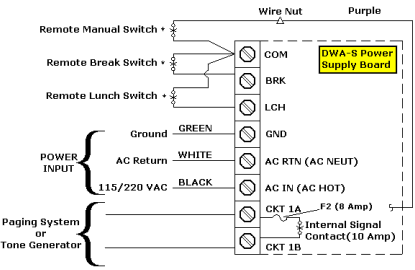 The dry contact closure wiring diagram is similar to other wiring diagrams. The differences are:
No jumper exists from CKT 1A to AC IN.
No wiring exists from AC Return to CKT 1B.
The connection from the paging system or tone generator would connect directly to CKT 1A and CKT 1B.
No step down transformers, relay connections or connection to the AC RTN is needed. After the DWA-S is wired to the paging system or tone generator, the 10 Amp Internal Signal Contact will close, triggering the tone to be generated. The connections cannot have multiple uses. If the timer is connected with a dry contact closure, it cannot be wired to bells or controlled devices.